Although the hospitality industry has made considerable advances in reducing its environmental impact over the last few years, a recently-imposed statewide mandate to cut water usage by 25% has California resorts searching for a new solution.
In the pie chart below, the U.S. Environmental Protection Agency reveals a breakdown of water usage in hotels: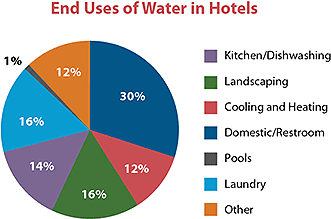 image via epa.gov
With 30% of a hotel's water usage attributed to domestic needs, including restrooms and water used by guests in bathing, it is clear that hospitality industry leaders need to provide guests with an effective and convenient way to reduce water usage in their rooms. That is where Freshstarts® come in…
Freshstarts are individually wrapped, eco-friendly makeup remover towelettes that leave guests' skin clean, soft and moisturized without ever having to reach for the faucet. 100% alcohol and paraben-free, these facial wipes offer an eco-friendly and luxurious way to remove dirt, oil and makeup.
Placing Freshstarts in guest rooms is also a great way to reduce makeup stains on expensive towels and linens. Not only can this simple gesture reduce the cost of replacing fine linens, it can also reduce the water used in the excessive laundering associated with stain removal. As the "domestic/restroom" and "laundry" categories equal nearly half of a hotel's water usage, Freshstarts are the smart choice for hoteliers interested in cuttings both costs and water usage.
Maintaining the brand's commitment to environmental sustainability, Freshstarts are biodegradable, flushable, and packaged using renewable wind energy. All materials used to create these products have been sourced from providers within the United States and are produced in California with strict adherence to state standards for environmental protection.
Start saving water today by visiting www.Freshends.com/hospitality.