By now, you're aware that Freshends are individually packaged, luxurious towelettes that offer a cleaner, more comfortable experience than traditional dry toilet paper. But what about your other cheeks – the ones on your face?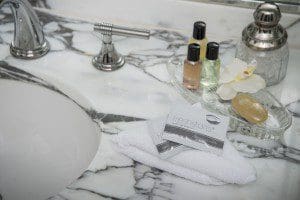 We're thrilled to present Freshstarts, our new, individually packaged, luxurious makeup remover towelettes that we're proud to say are 100% alcohol and paraben-free, gentle on your skin yet remove even stubborn waterproof mascara. Like Freshends, these wipes are biodegradable, flushable and the packaging is printed using renewable wind energy because we always have an eye toward sustainability and a greener planet.
Many of our hotel clients came to us requesting a make-up remover towelette.  They shared stories about how often their high end wash cloths, towels and even sheets and duvets were being ruined by residual make up. Part of the problem is tighter TSA requirements, which do not allow liquids over 3.4 ounces so many women no longer travel with their own make-up remover. Needless to say, there was room for a real solution.
Freshstarts grew from the need for a makeup remover wipe that would take off ALL of our makeup, without damaging skin or using harsh chemicals. Freshends Co-founder Ann often takes her makeup off, using wipes, on the way home from a late evening (someone's in a hurry!). She'd tried many of the wipes on the market over the years, and was left feeling disappointed by most of them. Since wipes are our business, we brainstormed, researched, developed and finally came out with a wipe we're proud to call our own.
Being in the hospitality industry, we really understand the challenges of dealing with makeup stains on the expensive towels and Egyptian thread sheets customers have come to expect at upscale hotels. Who doesn't love soft, fluffy towels and silky sheets? We all do, so we created a product that will help maintain the integrity of those luxurious linens – Freshstarts can be offered to guests at turndown or on an amenity tray, encouraging guests to easily, effectively and gently remove their makeup before washing or going to bed. Viola! Problem solved!
So between Freshstarts and Freshends, you and your guests can stay clean and comfortable ….and we've got you covered "from cheek to cheek!"